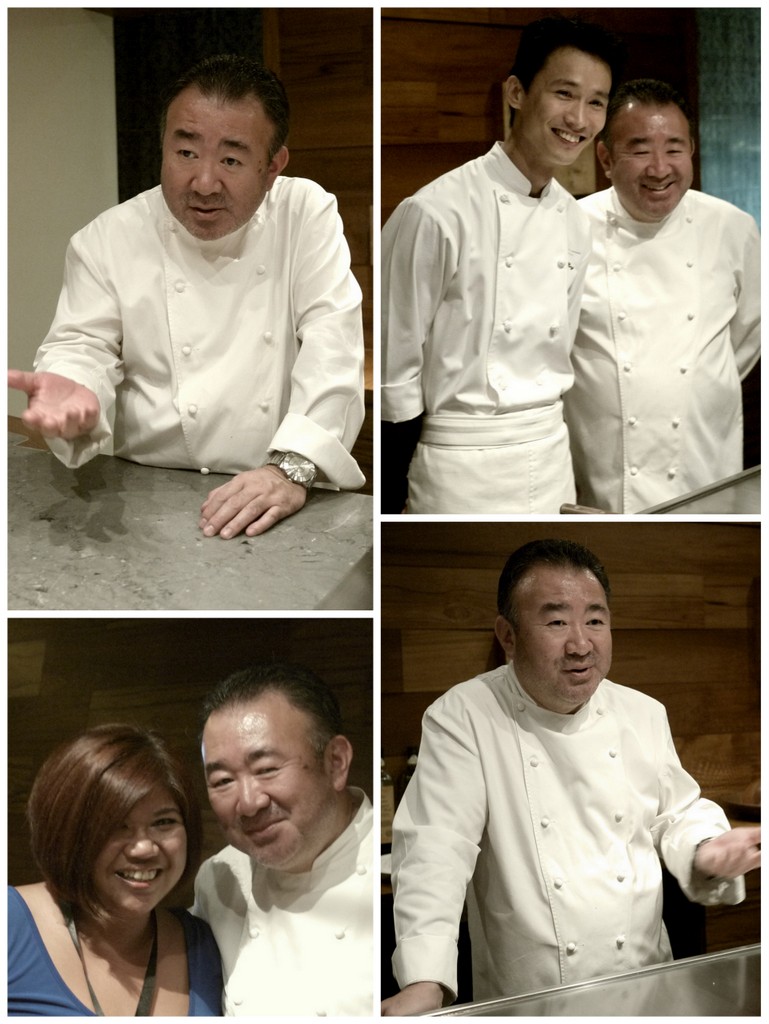 I had never tried his food, not for want of trying, but I was still nervous about meeting this man.  For years we had been trying to get a reservation at his restaurant, Tetsuya's, in Sydney, but because of our inability to commit to holiday plans, and our generally short stay in Sydney at any one time, we had always been unable to lock down a date at this restaurant.  After some time, he became the elusive Chef Tetsuya to us and like most dreams, this one got pushed into the KIV folder, slowly fading into oblivion together with other bits of forgotten items.
Which brings us back to this moment.  Meeting Chef Tetsuya Wakuda in person, in an intimate setting, in his restaurant in Singapore.  As we slowly marched into his private kitchen and lined up against the gleaming stainless steel induction cooking block, it was quite obvious that the cocktails which we had earlier weren't enough to shake off the nerves at meeting this illustrious man.  Dutch courage is a myth.
I didn't need to fear a thing, of course.  This man had compassion in his eyes.  When he smiled and talked about the simple foods that made him happy, his eyes sparkled.  Chicken rice and char koay teow are his favourite local dishes, but when he is at home, what makes him happy is Italian food.  A simple spaghetti with bird's eye chilli and garlic, a heaving bowl of salad and cheese, and good company.
Chef Tetsuya's expression for his passion for cooking is infectious; his speech picks speed and his voice takes on a pleasant lilt.  "When you eat, every sense of the body is employed.  It is the same with cooking," he tells us.  "A person learns how to cook from a cookbook, but the rest is from experience.  Cooking is giving.  When you like someone, you cook for that person," he continues.
It is simple philosophy, but it makes perfect sense.   I look back at my own experience, of seeing my mother work joyfully in the kitchen just to be able to feed her family, and then to my own life where I subconsciously replicate the same manner of caring with the people in my life.  My eyes get watery, and it isn't due to the billowing steam from the Alaskan king crab cooked at 230C on a base of salt with oil and water.  A splash of lime juice brings out the sweetness of the meat and we nibble on it as Chef Tetsuya carries on with his stories.
"Today, if you have knowledge, say as a sommelier or as a cook, you can live anywhere in the world," he says.
"What makes a good restaurant?" someone asks him.  "It's the people," he says without hesitation.  "People greet you when you enter a restaurant, and chefs cook for you.  When service is good, customers return."  Waku Ghin's chef, Sia Kok Hong, nods in agreement.  "He's a kind boss," the man from Malacca says shyly.  "I've never seen Chef Tetsuya scold anyone before."  The answer doesn't seem rehearsed.
Chef Tetsuya helps plate the next dish.  While one of the chefs grates fresh wasabi with determined concentration, Chef Tetsuya picks up a slice of lightly grilled incredibly marbled Grade A5 Kobe beef and proceeds to pile on the freshly grated wasabi on the beef followed by a dash of citrus soya sauce.  "Go ahead and eat it," he says with a twinkle in his eye.  We expect a sharp hit in our nasal passages, but are surprised with a mellow sensation instead.  "The wasabi reacts with the fat in the beef and tones down the sensation," he explains.  As expected, the dish is perfect.
As dish after dish is served to us, I begin to understand why Chef Tetsuya is well loved by his employees and his guests.  Despite his fame, he has no airs and graces.  Food is simply prepared with attention and care to its freshness, quality and chemistry between ingredients.
I don't think I'll ever forget meeting Chef Tetsuya Wakuda.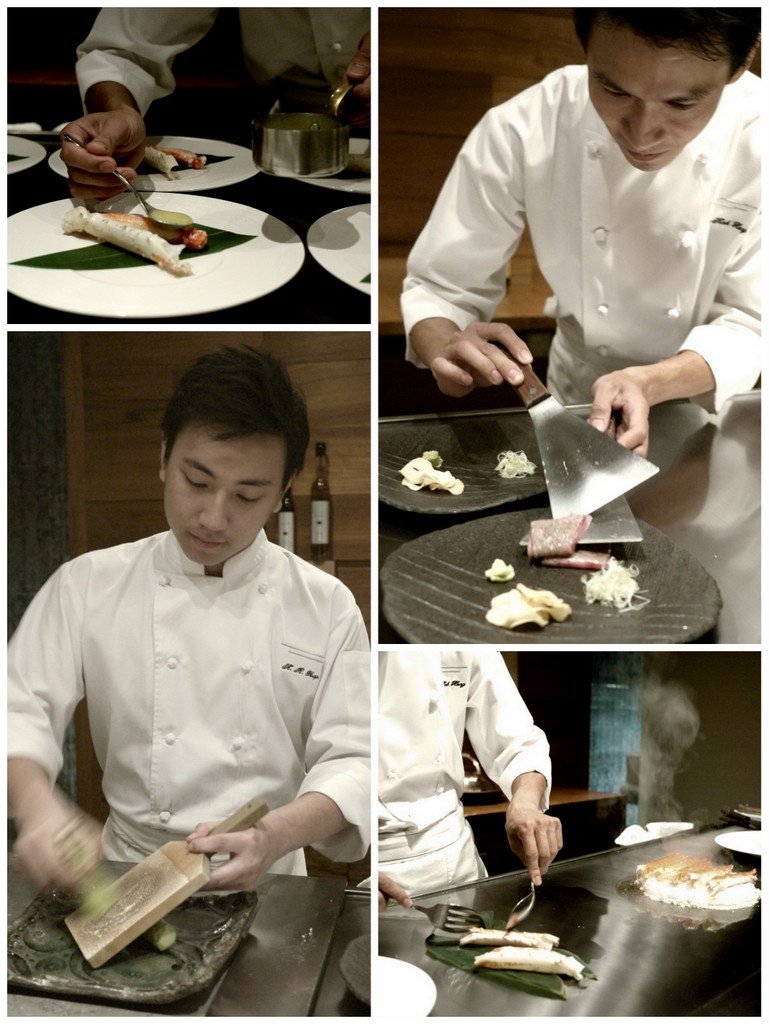 Note: Waku Ghin recently clinched 11th place on the San Pellegrino Asia's 50 Best Restaurants 2013 list.  Reservations are strongly recommended.
Waku Ghin
The Shoppes, Atrium 2, L2-02, Marina Bay Sands Singapore.
Reservations: +65 6688 8507