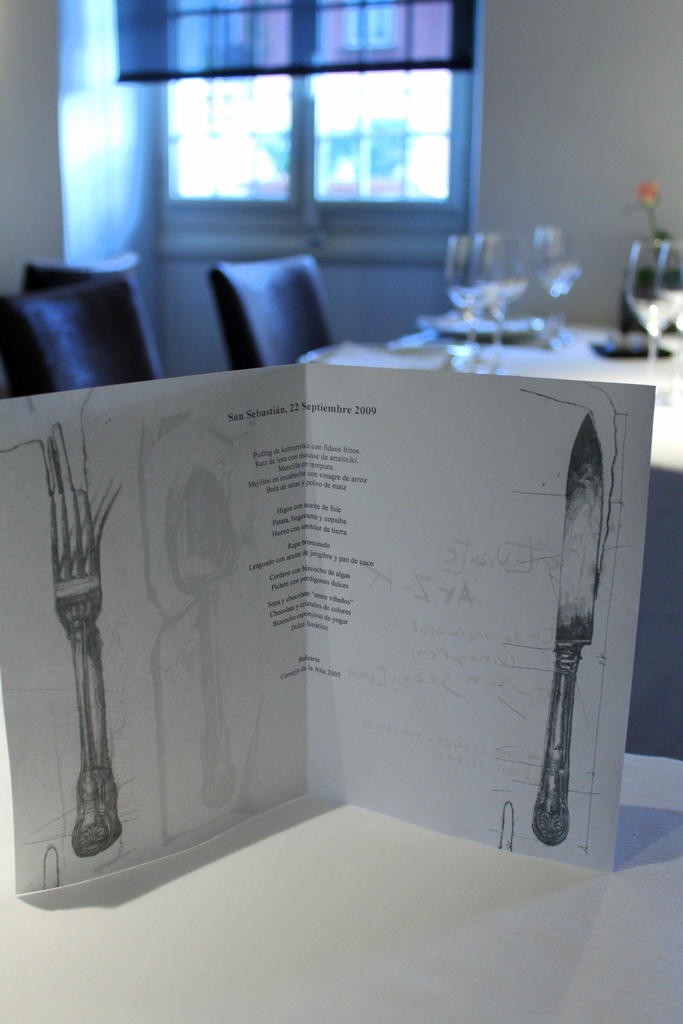 The photographs from 2009 lacked the withered, yellowed appearance that one would expect of old photos.  There was no mold, no dust, no opportunity to romanticize the experience of flicking through the pictures and feeling the  brittle plastic sheet from the photo album rustle beneath my fingers.  In this decade, photographs are merely a collection of millions of pixels without the benefit of exposure to light or dust.  There is no burning of pictures to exorcise memories; you merely hit the delete button and everything is gone.
I pressed the right arrow key over and over and over again, each tap of the key hitting a different nerve within my body, an ache despite the lack of physical contact other than my index finger tap tap tapping on the arrow key as picture after picture from another time appear on my 15-inch monitor.
There are no pictures of our meal at Arzak in 2009.
******
We were staying at a B&B in San Sebastián which we eventually discovered was owned by a rather reputable restaurateur in the town.  We didn't know any Spanish, and he and his employees knew little English, but like love and music, the love of food formed that shaky bridge of understanding.
Arzak was fully booked, but the B&B owner managed to get us a table one sunny afternoon. Elena Arzak personally greeted us and led us to our table beside the kitchen.  After spending some time getting to know us, she disappeared into the kitchen.  What eventually came out was food that was visually magnificent with unexpected flavours and surprising textures.  I don't have the autographed menu with me anymore, nor do I have any pictures thanks to a strict ruling at the restaurant with respect to the photographing of food, but how can I forget the fresh, juicy mussels with rice vinegar, or the mushroom popcorn, or the lotus root with a mousse made of fish, or the figs, jam-like in texture with caramelised bits and foie gras that melts in the mouth, or the lobster served with crispy potato with an unusual texture, or the poached egg with sesame and seaweed, or the monkfish with olive oil in spherical shapes that had the appearance of bronze metallic paint, or onions cooked and flattened to resemble paper which was then painted on, or pigeon with silver, blue potato juice in blue globes, or strawberry soup and orange with red wine and sesame sugar.  The images and flavours are etched in my memory.  "Why are you smiling?" he asks.  "Because I'm happy," I reply.
If there is one meal in my life that I never want to forget, this is it.
As we prepared to leave the restaurant, Elena Arzak presented me with an autographed copy of her book.  "You may not understand the language," she smiled, "but it is a small gift to you so that you remember your time at Arzak."  I wondered why she would give me a gift  as precious as this.
Her one message to me which I remember to this day is this: "There are people who save up a whole year to be able to dine at our restaurant, and there are people who can afford to dine daily here.  We recognise that, and we treat everyone equally."
******
We walked along the sandy beach of San Sebastian, the breeze gently lifting the frills of my blouse.  I watched the children build sandcastles and laughed at the faith of fools and a misplaced sense of confidence in an eternity that is so easily washed away with  the rising tides.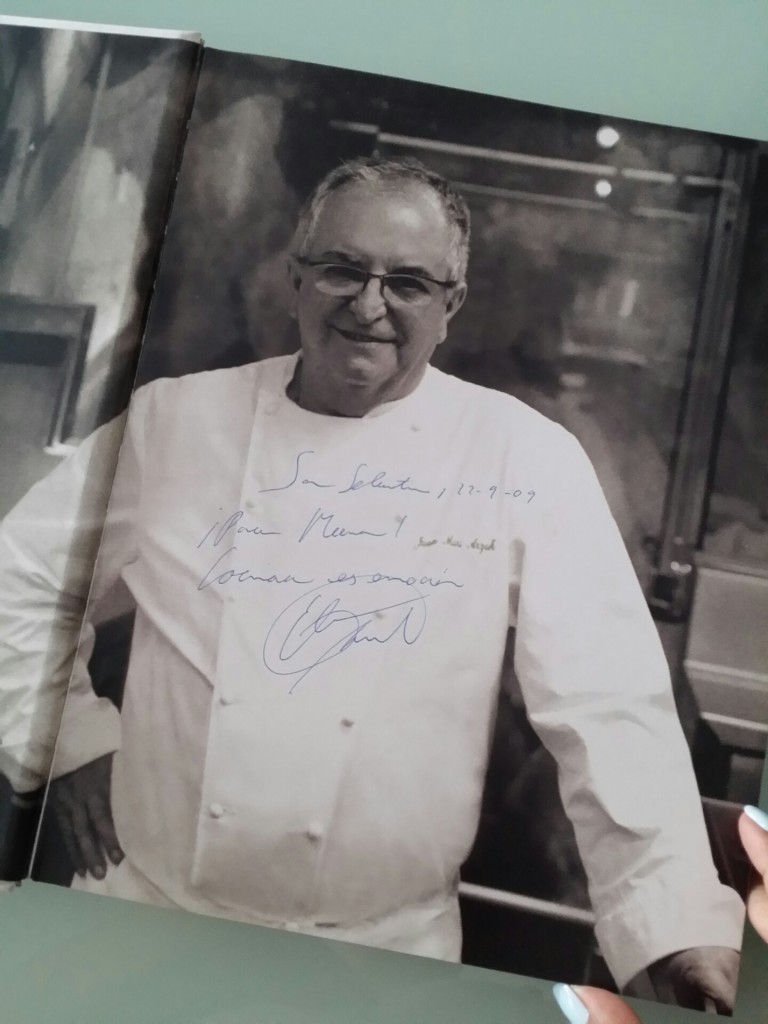 A picture of Elena's father, Juan Mari Arzak, and Elena's autograph.
 Note: In 2012, Elena Arzak was voted The Veuve Clicquot World Best Female Chef.  The restaurant is currently ranked 8th in the world on the San Pellegrino World's 50 Best Restaurants list.
Arzak
Av del Alcalde José Elosegi, 273, 20015 Donostia-San Sebastián,
Spain.
Website