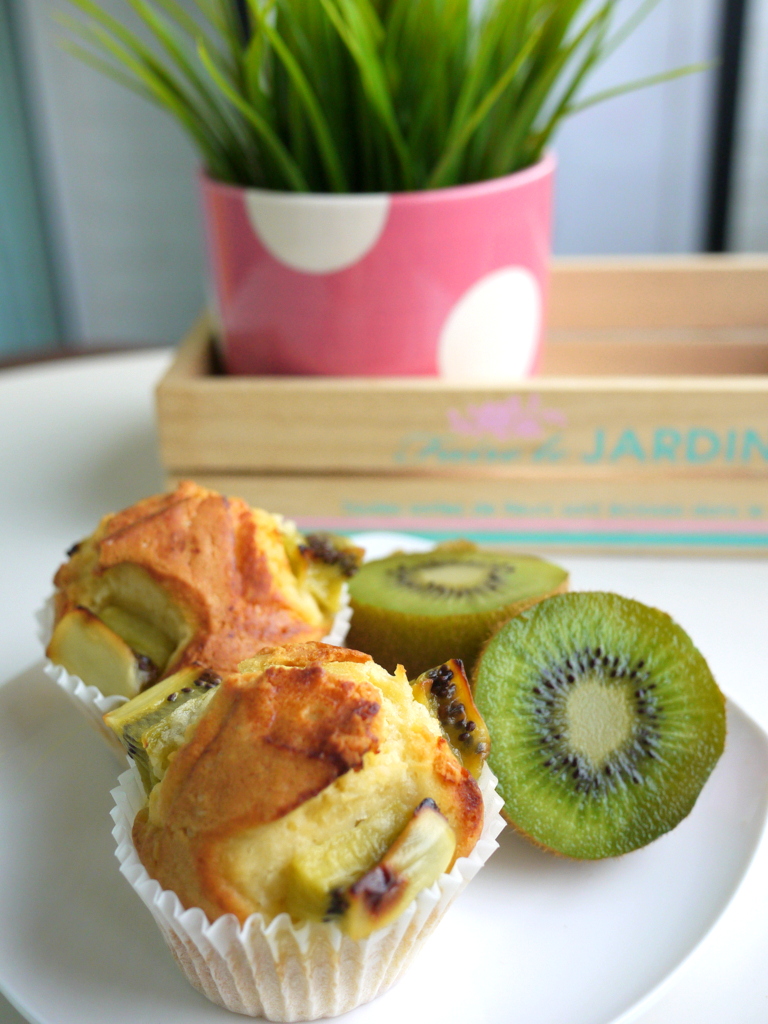 I've only ever successfully baked two cakes in my lifetime.  One was a pavlova and the other was a flourless butter espresso chocolate cake, and while they were wholly made by me, there was an able and experienced baker standing beside me in her Miele-equipped kitchen telling me what to do.  So basically, my point is, I'm not the best baker in town.  However, I do love a good challenge and I'm not afraid of falling flat on my face.  Failure used to be something I handled pretty badly before.  Not that I'm a whole lot better at dealing with it these days, but at least I no longer isolate myself for fear of being judged by the world.  The reality is that you will receive some sympathy and possibly a little scorn, but people don't dwell on YOUR mistakes.  Unless you're an arse of a politician lah.  Even then, most people have short term memories and move on to better or more scandalous things.
Zespri Malaysia's website contains a whole bunch of recipes incorporating kiwifruit as an ingredient.  I'd love to try some of them, like the Nyonya-style asam fish curry recipe developed by Rohani Jelani (Fatboybakes claims that she is his idol, but he has many idols so Rohani should wise up and realise that she's really and truly MY idol) but for today, it will have to be my Achilles' heel – baking a cake, a "Superb Kiwifruit Cake", to be precise.  After all, nobody wants to have someone else rubbing their perfectly created masterpieces in their face.  No.  The world needs a real loser to cheer on. *cue Chariots of Fire*
Recipe (reproduced from Zespri Malaysia's website):
• 4 Zespri® Green Kiwifruit
• 125 g (4 oz) butter, softened
• 1 cup sugar (I adjusted to 1/2 cup)
• 2 large eggs
• 1 cup flour
• 1 teaspoon baking powder
• 1 tablespoon sugar, extra
• 1 tablespoon icing sugar (confectioners' / powdered) sugar
 Method:
Grease a 20 cm (8 in), loose-based cake pan and lightly dust with flour. Pre-heat the oven to 180°C (350°F).
Cream the butter and sugar with an electric beater for 3 minutes. Add the eggs and beat well. Sift in the flour and baking powder, stir to combine then beat on high speed for about 2 minutes, until well combined.
Spread the batter into the prepared cake pan. Peel and quarter the Zespri® Green Kiwifruit. Cut each quarter in half and dot evenly over the batter.
Sprinkle the fruit with the extra tablespoon of sugar.
Bake for about 50 minutes (I made cupcakes to I adjusted this to 20 minutes), until a skewer inserted in the centre comes out clean. Cool for 10 minutes before removing from the pan. When cool, the cake can be stored in an airtight container. Serve dusted with icing sugar and cut in wedges. Serve as a dessert or with coffee.
Serves: 8
*********
So, while I was pondering on how I'd turn out to be a celebrated culinary genius at the end of the baking session, Fatboybakes popped up on my screen on Google chat.  The condensed version (edited for profanity, etc.) goes like this:
FBB: You want kiwi cake? The one in the recipe cards?  Aitelyu ah, just LOOKING at the recipe oridi i know something is wrong.
Me: Izzit?? What's wrong with it?  I'm doing it tonite. (*thinking to myself:  Of all the recipes in the world, he has to pick the SAME recipe that I've chosen??)
FBB: Ohhhh, you are?  Find out yourself la.
Me: Tell meeeeeeeeee.
FBB: ……..
Me: Nowwwwwww.  I have no ideaaaaaaaaa.  I have only baked 2 cakes in my life.  Fasterrrrrrrrrrrrrrrrrrrrrrrrrrr.  Do u want me to be a failure?
FBB: Hahahahahahahhahahaha.
Well, the evil baker eventually told me that he used only a quarter of the  amount of sugar, 1/2 the quantity of kiwifruit, and a smaller cake tin.  In his words, "If you put THAT batter into an 8″ pan, like they said, …. you might get a pancake".
Perfect.  Plan B?  I had no Plan B.  So I whipped out  my muffin tin, lined it with cupcake liners and turned the cake into cupcakes.  Brilliant, right?
I think I'm going to be a baker when I grow up.
For more information on Zespri kiwifruit, check out their website.  The above post is part of the Zespri 14-Day Daily Scoop of Amazing Challenge.